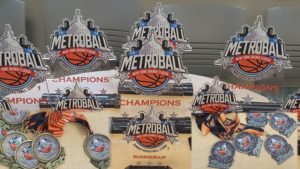 16 years ago (2000), the New York Ave Classic Summer Youth Streetball League was created as a violence prevention initiative and to steer youth from deviant behavior. Over the years Metroball has been able to keep the youth violence down during the summer months. Now considered the largest and longest running Youth Summer Streetball League, this league has set the standard for all the summer leagues in the DC area. While most Summer Streetball Leagues in the city are primarily for adults, Metroball ONLY has youth (4th – 12th grade). The best youth in the area test their skills here against each other to compete in some of the best games of the year. This year was no exception.
The playoffs and finals this past weekend showcased some of the best youth players and teams in the area. If you were there, you knew that you were watching something special. Every division had games that went down to the last minute and all of the youth left it all out there on the court.
We would like to thank all of our sponsors for this year, Shoe City, Under Armour, Tylerhouse, Millrose Athletic Foundation, Unitees, ESPN, Brisk, Cocoa Cola, 7-Eleven, and City Slam.
Congratulations to all of our Champion and Runner-Up teams in each Division!! Hope to see you next Summer!!
Elementary School 1 Division Champions

Kennedy Playground

Elementary School 1 Division Runner-Up

Moco Warriors
Elementary School 2 Division Champions

One On One

Elementary School 2 Division Runner-Up

Metroball DC
Middle School Division Champions

Bowie Rams

Middle School Division Runner-Up

Tyler House Elite
JV Division Champions

Trojans

JV Division Runner-Up

Bowie Rams
Varsity Division Champions

Tyler House Elite

Varsity Division Runner-Up

Moco Warriors