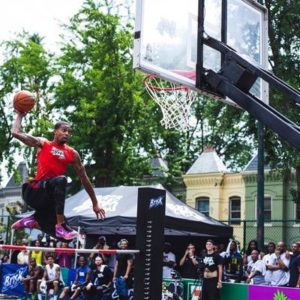 The 15th Annual Metroball New York Ave Classic Summer Youth Streetball Tournament kicked off in spectacular fashion this year Sponsored by Shoe City, Under Armour, Brisk, City Slam, 7-Eleven, and Tyler House Apartments.  High flying dunks, celebrities, giveaways, and competitive youth basketball all gave way for a special day at the New York Ave historical white and colors basketball court.
The day started off gloomy and unassured due to weather conditions and chances of rain, however that did not stop ESPN and its crew from setting up an optimal outdoor basketball arena styled atmosphere.  As start time of the first scheduled gamed approached many fans, spectators, sponsors, and Metroball personnel remained indecisive on how the day would play out.  But as planned, by 11am it was 88degrees and officials were at center court ready for tip-off.  The first game of the day showcased the Middle school division teams One on One vs Bowie Bulldogs.  One on One picked up where they left off last year proving the Bowie Bulldogs were totally outmatched—one of the United States dignitaries and Metroball supporters, Arne Duncan, Secretary of Education cheered in amazement as his team dazzled fans in victorious fashion.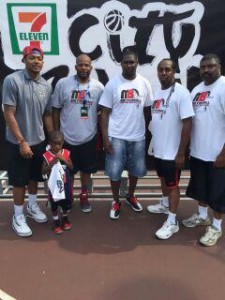 As the day progressed so did the Washington DC humidity and heat index. By game three the slide lines were packed with fans, spectators, and children with City Slam 7-Eleven towels draped over their  heads downing one brisk ice tea in there right hand with another waiting in their left. In between the five games scheduled before the main event, Shoe City and Under Armor did a spin the wheel giveaway of t-shirts, book bags, towels, and water bottles which really came in handy for an event such as this.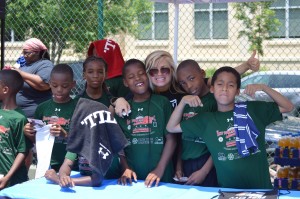 At 1:45pm comedian and host Boot Jones was directing all fans and spectators to relocate to court two for the main event, the 7-Eleven City Slam Dunk Contest.  At this time ESPN crew leader and director, Drew Russell was sweating profusely. I'm not sure if it was from the temperature rising to 96 degrees or him still worrying about the event being rained out.  However all seem to brighten up when the celebrity judges, Washington Wizards guard Bradley Beal and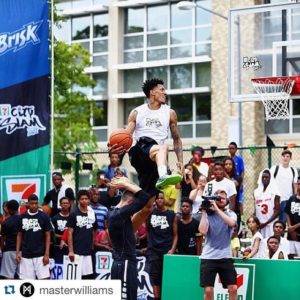 former Washington Redskins Linebacker Lemar Marshall entered the gates.  As expected, there were numerous dunks involving props such as high –jump poles, groups of numerous guys gathered simply to be dunked over…  Oh yea and a dancing pineapple.  Indeed by days end former And1 street baller and professional overseas talent Guy Dupuy stole the show with high flying acrobatic showmanship. If you don't believe me just watch July 7, 2015 at 10:30pm on ESPN2.  Also check out Photos by Bernard Reeves @BREEVESPHOTO
Here are some pictures from last weekend.  Video Clips and additional pics are available on the Metroball Facebook page.