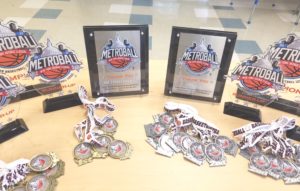 On Saturday August 5th, the 17th Annual Metroball New York Ave Classic finished up another great Summer of Youth Basketball in Washington DC.  Each year this event gets stronger and stronger with tougher competition.  Many of the teams surrounding DC enter the league to see if they have what it takes to compete with inner city youth in the tough streetball environment.  Some teams adapt while for others, the tough crowd, heat, and competition is too much to handle.  Either way, everyone has fun and gets to elevate their game in the process.
This year's playoff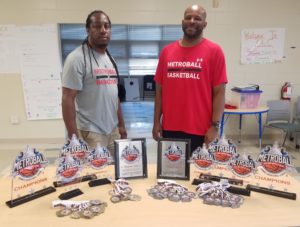 s began the night before with first round games, capped off by a thrilling JV game between Team Clutch and Bowie Rams that went into triple OT.  The next day, the playoffs continued at 10am with more high level competition in all divisions.  2017 turned out to be one of the best years for Summer League.  Many teams returned from previous years retooled and ready to take the title.  One team that really impressed us was Team Hustle 11u from Southern MD. This was their first time competing in the Streetball League and they proved that not only could they handle the competition, they were able to grind out some tough playoff games and eventually take the Elementary School Championship.  Other notable teams were Team Clutch that won the Middle School and JV Championships.  Tyler House Elite and The Trojans have always been the main teams to beat in this league each year.  These teams almost always end up battling it out in numerous divisions for the Championship.  This year, Tyler House took the Varsity Championship with a close win over the Trojans.
As we close this year's league, we look forward to the 2018 Summer League and know that it would be even better!  Registration begins May 1st 2018.
Congratulations to All of Our Champions:
| | | |
| --- | --- | --- |
| ELEMENTARY SCHOOL DIVISION | | |
| | | |
| CHAMPIONS – TEAM HUSTLE | | RUNNER UP – TROJANS |
| | | |
| | | |
| MIDDLE SCHOOL DIVISION | | |
| CHAMPIONS – TEAM CLUTCH | | RUNNER-UP – TYLER HOUSE ELITE |
| | | |
| | | |
| JUNIOR VARSITY DIVISION | | |
| CHAMPIONS – TEAM CLUTCH | |  RUNNER-UP – BARRY FARMS |
| | | |
| | | |
| VARSITY DIVISION | | |
| CHAMPIONS – TYLER HOUSE ELITE | |  RUNNER-UP – BOWIE BULLDOGS |
| | | |