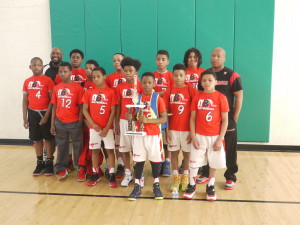 Yes it's that time of the year that we all look forward to here at Metroball. This year is extra special because over the winter, Metroball has been able to assemble a total of 4 Teams (6th, 9th, 10th, & 11th Grades) and are still building 4 more teams which also include girls.
Three of the 4 competition-ready teams saw their first AAU action this past weekend at the More Than Basketball AAU Tip-Off Tournament at Wilson HS in DC. Anticipation was high to see what the new 9th & 10th grade teams were going to do. The 6th grade team has been playing almost every week since October, so they were the most prepared and it showed.
Both 9th and 10th grade lost their first games by double digits. New coaches Angela Richmond (Head Coach – 10th Grade) and Derek Norman (Assistant Coach – 9th Grade) felt that their teams did not play up to their potential. This was expected since they are a new team and trying to get to know each other. After a brief talk to both teams by Coach Tony, both teams put forth a much better effort in their remaining two games. Unfortunately, the damage was already done with their loss in the first games. So neither team was able to advance out of their pool. 9th grade did show some promise and will compete in the Potomac Valley League. 10th grade did give a better effort but in the end, did not have the personnel to keep up with the level of competition. The 10th grade team will be tweaked and be ready for the next tournament in a few weeks. The coaches agreed that they were missing a few pieces but have a core group that they could build on. The remaining players will be trained and conditioned on a development team.
The 6th grade team had secured a spot in the Championship game by handily winning their first two matches. One included a win over a team that was much taller than they were. With the spot in the championship game secured, Coach Tony let the bench play most of the 3rd game and allowed them to have fun. They played a good Baltimore Elite Team but still only lost by 1 point. The 6th grade team was the only team to make it to the championship game on Easter Sunday.
The game was a rematch against E-Dynasty, a team that they already defeated by double digits. By half time, Metroball DC 6th Grade was up by 12 and seemed to be on their way to winning the championship. A few mental mistakes, bad calls, missed free throws, and great shooting by E-Dynasty turned this game into a brawl. By the last few seconds, the game was tied. E-Dynasty made a difficult go ahead shot with 4 seconds left on the clock. With no timeouts left and having to go the full length of the court, Metroball DC 6th grade attempted a half-court shot at the buzzer and missed. There went the championship. This was a humbling experience for this talented team and there is nothing but great things in the future for them. Look for this team to do big things this year.
The 11th grade team will see it's first action at the Big Shots Certified Tournament April 11-12.