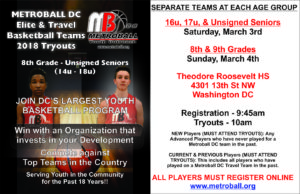 All PLAYERS MUST REGISTER ONLINE "HERE" TO ATTEND 
Metroball DC will be having Tryouts for our 2018 Travel and Elite Teams (14u – Unsigned Seniors – please see dates for each age/grade).  Over the years we have been growing and competing in some of the top events in the country.  Everyone wants to win, however our focus in on the development and advancement of our youth.  Metroball Youth Outreach is a Non-Profit Organization that has been serving the youth directly in Washington DC for the past 18 years.  Since 2000, we have hosted the Largest Youth Summer Streetball League in DC for violence prevention (New York Ave Classic) and mentored and trained youth all year round to develop their all around character.
Our travel teams have been known to compete with the best in the country.  2017 was the best year to date for our travel teams.  Every Metroball team last year won multiple championships.  Several against top ranked teams.  Our staff and Management focuses on each youth and helps them to achieve their goals on and off the Basketball Court.  As a result, we pride ourselves with helping many DC Area youth attend colleges and universities across the country by using basketball as a tool to a great education.  Our expert staff  tries to match each youth with a college or university that fits their social, academic, and athletic goals.
If you are a skilled player and want to tryout for one of our Travel or Elite teams, please attend our tryouts.  If you are not as skilled and want to improve or learn the game, we have a comprehensive training program that would also allow you to compete at your level.  Either way, Metroball Youth Outreach and Metroball DC AAU would be happy to have you.
FOR TRAVEL/ELITE TEAM TRYOUTS REGISTER "HERE"
NEW PLAYERS (MUST ATTEND TRYOUTS) – Any Advanced Player who have never played for a Metroball DC team in the past.
CURRENT AND RETURNING PLAYERS (MUST ATTEND TRYOUTS) – This includes all players who have played on a Metroball DC Travel team in the past.